---

Management system for diagnostic medicine – Motion MD
---
Motion MD is a complete management solution for companies that perform medical exams in more than one diagnostic medicine field – Clinical Analysis, Anatomic Pathology and Imaging.
With it, you can manage the whole exam process, from patient registration to the publishing of medical reports, on a fully web-based platform.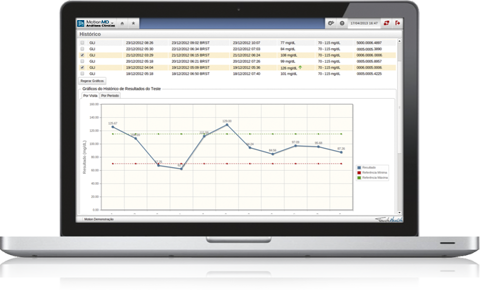 ---
Easy access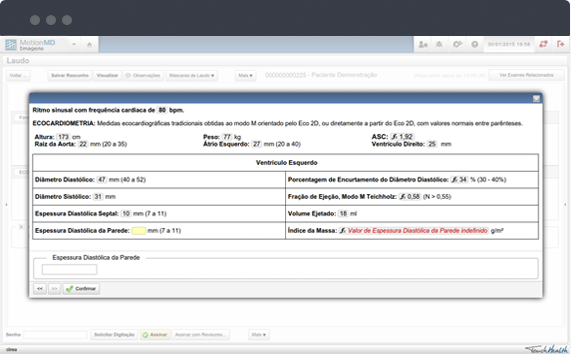 Web-based – provides cost reduction and flexibility
Accessible from mobile devices: iPad, iPhone, Android
Multi-location support
Compatible with all major databases.
---
Safety
With Motion MD, you have full safety of information, because nothing is deleted or overwritten.
It also allows configuration of permission levels per user or user group and full registration of people, procedures and automation process rules.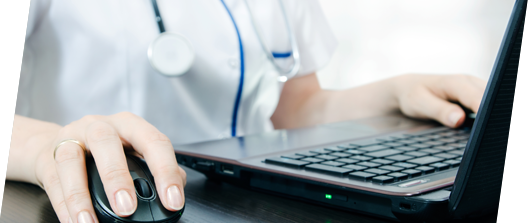 ---
Complete solution for laboratory exams
Safety in inputting, interfacing, analysis and releasing of results
Integration with the major analytical equipment
Configurable workflow control rules for each field
Features such as double entry, abnormal result lock, rules for automatic result analysis (including delta analysis)
---
Differentials for Anatomic Pathology
Control of exams with multiple
fragments, ensuring patient's
uniqueness.
Allows definition of responsibilities
and lists of individual pending issues
Locking of cases to be reviewed,
according to configurable rules
Macroscopic and microscopic imaging
upload on to the medical report
Efficient control of filing of slides
and blocks
Efficient control of material processing
(from macroscopic to microscopic)
---
Speed and quality in image reports
Configurable auto text and masks
Automatic calculations from
configurable formulas
Free text with formatting
and spell check
Integrable to any HIS, RIS and PACS
Compatibility to the ONA requirements
Biometric signature with LFD
(Live Finger Detection)
technology – optional
Contingency solution for offline
preparation of the report
---
Publishing of medical reports and images online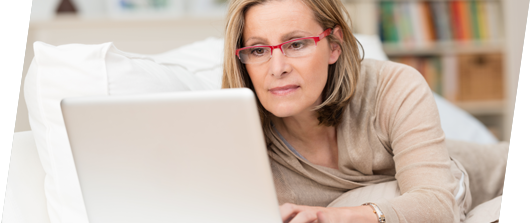 Motion MD allows your company to release reports and images to your requesting professionals and patients, through your website or intranet, without the need of additional software.
---
Optional modules
Motion MD can be integrated to some modules according to your business needs:
Reception The registration of requests and patients is done in a intuitive and efficient way. The integration of this module to Motion MD allows the registration done at reception to be sent automatically to the worklist.
CommercialThe Commercial module allows control of information and costs, aiding in decision making and strategic planning. It was developed specifically for the reality of routines in Diagnostic Medicine clinics and laboratories, aiming for the company growth.
Business Intelligence (BI)Efficient and easy to use, the Business Intelligence module has all the necessary tools to manage the reports you need. It allows control of access per information category and multiple visualization modes, such as graphs, dynamic tables and exporting to Excel.
Process monitoringThis module is ideal for monitoring urgent cases and managing production queues in real time, via a simple, practical and efficient interface. With it, you can closely keep up with each process within your business, with the possibility of viewing any delayed or on time item and promoting the optimization of these processes.
LogisticsOne of the main advantages of the logistics module is that users have online access to information regarding supply alerts, positions and transactions, via a simple and practical interface that makes reading easy. It also has a module-based hierarchy, adapting to each kind of business with a complete or complimentary solution.
---
Authorized representative
Are you interested in our solution?
Contact our authorized retailer.


+55
11 3845-6061

contato@inovapar.com.br
---
Case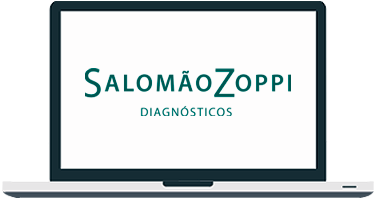 To support the significant growth in their services, SalomãoZoppi chose Motion MD,
a robust and complete solution to handle in more than one diagnostic medicine field.